Stud History

The Heritage Coast Stud was started in 1975 by Robert and Hannah Skepper.
Hannah had been brought up on Horsey Island with her parents Nancy and Jasper Backhouse. The Island has bred top class Pure Bred Arabians since Horsey Island Stud was established in 1935 by Nancy. Nancy was well known on the show circuit and became an Internationally recognised In Hand Judge; in her later years she was invited to judge at the Australian Arab International.
Nancy and Jasper had two daughters and a Son; Mary, Hannah & Joseph. Hannah married Robert and started the Heritage Coast Stud; Mary married Angus Bancroft and they started the well known Water Farm Arabians and Joseph has taken over the mantle of the Horsey Island Stud.

It was from Horsey Island that the first resident stallion of the Heritage Coast Stud came from, Lone Tornado. Nancy gave him to Hannah for the whole family to enjoy and he ended up being ridden by all of Hannah and Robert's children competing at all levels and also racing in 1986. During this period he was also being used on cross bred mares to produce some part bred arabs. For more click here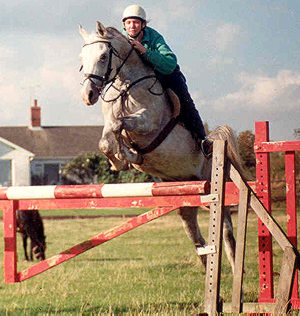 Lone Tornado jumping at home with Jane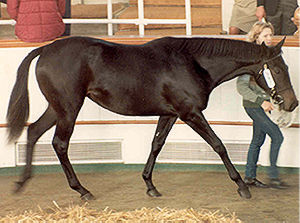 Filly by High Top ex Sunset Ray
Highflyer sales
From 1975 to 1995, Hannah and Robert bred flat thoroughbred racehorses from the stud. They had 8 resident mares at their peak and produced yearlings at the Highflyer Sales (now Houghton), St Leger Sale (Doncaster) and the October Yearling Sales. During this period they produced 32 yearlings of racing age of which 56% were winners. For our racing record click here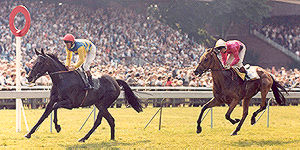 Sunset Ray winning at Newmarket
As the costs of sending mares to good stallions was increasing and the resident mares were all getting older it was decided to stop producing flat horses and use the good quality thoroughbred mares to produce top class Anglo competition and race horses.
Since 1995, a total of 38 foals have been born to compete in competition disciplines from Endurance to Eventing
For more click here